APEX: Government Contracting 101 - Part 2 (East TN)
APEX: Government Contracting 101 - Part 2 (East TN)
Wednesday, December 6, 2023 (10:00 AM - 12:00 PM) (EST)
Description
Government Contracting 101 - Part 2 (East TN)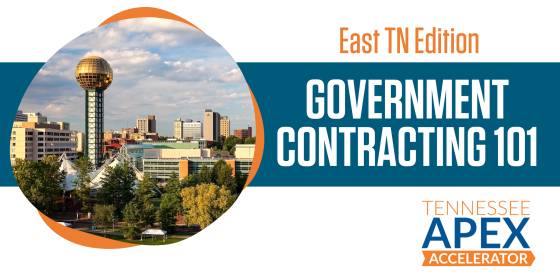 12/6/2023
10:00 AM - 12:00 PM (EST)
Open - 100 places remaining
12/6/2023 8:00 AM (EST)
No Fee

Jutta Bangs

Online Meeting (Live)
Government Industrial Base (GIB) Readiness

Part 2 - Continued content from part 1 & Live demo of important websites
Attendees learn how to do business with the government in this comprehensive course that reviews the entire federal procurement process from start to finish. The introductory course outlines everything you need to know about government contracting, and how to be successful in today's procurement marketplace.
Registration Policies:
Special Accommodations: In accordance with the American Disabilities Act and state law, you may request accommodations due to a disability by contacting the event organizer listed above. Advance notice may be necessary for some accommodations. Registration must be paid prior to accommodation requests.
online

Wednesday, December 6, 2023 (10:00 AM - 12:00 PM) (EST)
Categories
Other Regional or Partner Event