ETEC - Chad Duty, Chief Executive Officer, IACMI
ETEC - Chad Duty, Chief Executive Officer, IACMI
Friday, June 16, 2023 (7:30 AM - 8:30 AM) (EDT)
Description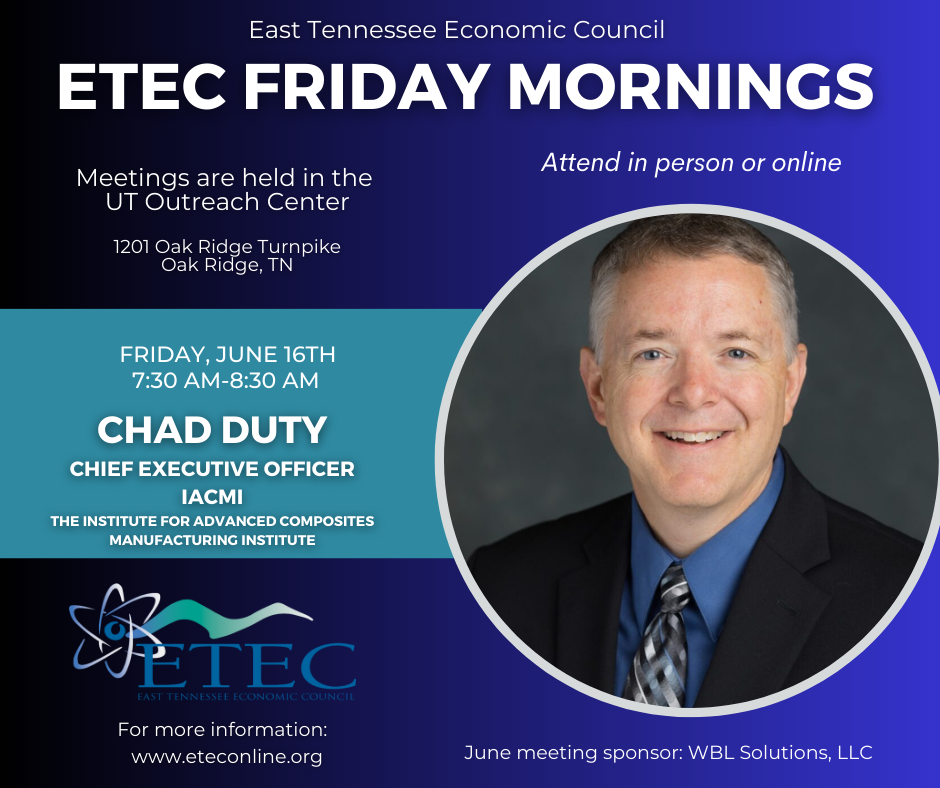 ETEC members meet each Friday morning from 7:30am-8:30am. This meeting is open to all members and their guests.
We welcome our members and guests to attend the ETEC meetings in person. It is the best way to connect, or re-connect, with friends, colleagues, and potential business opportunities.
Join us on Friday, June 16, 2023, to hear from Chad Duty, Chief Executive Officer at IACMI.
This meeting is open for both in-person and virtual attendees who are ETEC members and their guests.
No registration is necessary for in-person attendance.
Click here to register for the VIRTUAL meeting:
https://tennessee.zoom.us/meeting/register/tJwtc-qgqDIrH9e0tp893v3QCGKm6rMIuBE5

For more information about ETEC's weekly meetings, click here.
Visit the Contact page for the meeting location, address, and map.
Learn more about Chad Duty
Chad Duty is the Chief Executive Officer of the Institute for Advanced Composites Manufacturing Innovation (IACMI, or IACMI-The Composites Institute), a role he assumed April 1, 2023. IACMI is a U.S. Department of Energy (DOE)-sponsored public/private partnership targeting high-volume applications of composites in energy-related industries.
A professor in the Mechanical, Aerospace & Biomedical Engineering Department at the University of Tennessee (UT), Chad also holds a joint faculty appointment with the Oak Ridge National Laboratory (ORNL).
He has more than 20 years of research experience in advanced manufacturing – spanning technologies in thin film processing, printed electronics, solar energy, and additive manufacturing of polymer composites. Before joining UT in 2015, Chad served as a research scientist and group leader at ORNL beginning in 2004 and helped to establish the DOE's Manufacturing Demonstration Facility at ORNL. Duty began his career as a senior aeronautical engineer at Lockheed Martin.
He has a doctorate in mechanical engineering from Georgia Tech and bachelor's degree in mechanical engineering from Virginia Tech.
ETEC - UT Outreach Center
1201 Oak Ridge Turnpike Suite 100



Oak Ridge

,

TN

37830

United States



Friday, June 16, 2023 (7:30 AM - 8:30 AM) (EDT)
Categories
Friday Morning Meeting