TAEBC: Opportunities in Energy Keynote Panel with Gov. Phil Bredesen & Sen. Lamar Alexander
TAEBC: Opportunities in Energy Keynote Panel with Gov. Phil Bredesen & Sen. Lamar Alexander
Wednesday, November 15, 2023 (9:30 AM - 5:00 PM) (EST)
Description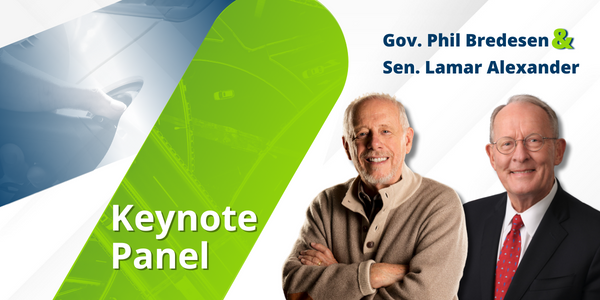 Date: Wednesday, November 15, 2023
Time: 9:30 a.m. - 5 p.m. EST
Where: The Standard
416 West Jackson Avenue Knoxville, TN 37902
About Opportunities in Energy
The Tennessee Advanced Energy Business Council will hold its annual Opportunities in Energy event on Wednesday, November 15, from 9:30 a.m. until 5 p.m. at The Standard in downtown Knoxville.
This all-day event invites members and stakeholders to hear about new and innovative "opportunities" in the advanced energy sector, including trends, businesses, technologies, partnerships and initiatives.
At the event, TAEBC will present a state or local leader with the annual Thomas B. Ballard Advanced Energy Leadership Award. The award honors exemplary leadership and success in championing, connecting, and strengthening Tennessee's advanced energy economy. Attendees will receive breakfast, lunch and refreshments throughout the event.
A networking happy hour will follow the event programming.
Early-bird tickets for TAEBC members and non-members are available until Friday, November 3. If you are a Gold or Platinum TAEBC Member, email ahassler@tnadvancedenergy.com or hannah@piper-communications.com to receive your free promo code.
The Standard
416 West Jackson Avenue



Knoxville

,

37902



Wednesday, November 15, 2023 (9:30 AM - 5:00 PM) (EST)
Categories
Other Regional or Partner Event